What equipment do you use in your photography?
Welcome to the Masters Of Photography Forum and our global community of Beginner & Professional Photographer's.
What equipment do you use in your photography?
We all love creating photographs, some photographers are total 'gearheads' while for others, cameras are merely tools. Which one are you? Share your thoughts with the MoP community and find out what everyone else is using!
What are you using? Classic cameras or the latest DSLR?
Is the next generation of mobile phones going to replace cameras?
Zooms or primes? Is there any optical difference these days?
What new equipment is around and working well for you at the moment?
What's your favourite equipment and what's on your wishlist?
Share your thoughts on equipment with the MoP community and see what suggestions you can use in your own photography.
Currently using a Pentax K1 and assorted Pentax lenses, as well as a Leica D-Lux 7 as a pocket camera. I have been looking around for alternatives recently for a lighter option and without losing quality, but the options are not really game-changing. There are many unique features in the Pentax bodies but two I use most often, and cannot understand why they aren't available on other brands are these: the TAV setting and the green button. Every camera includes aperture and shutter priority as well as manual and auto, but the TAV setting allows manual adjustments to both aperture and shutter speed whilst the ISO is changed automatically depending on conditions. You can of course see the ISO so if it is too high then one of the other settings can be altered depending on your subject or tweak the exposure compensation button. This is a great alternative to manual when conditions are changing quickly and still allows the same degree of control. The green button is useful in manual setting particularly; pressing it puts the camera temporarily into auto mode so gives a "correct" exposure from which settings can be changed manually to suit. Pentax were pioneers with moving the sensor and still offer many unique benefits although sensor anti-shake has since been adopted by mirrorless bodies. 
Finally, the handling is about the best available and all day to day controls are to hand on the body without trawling through a menu, saving a lot of time, and there is also a single screen shortcut menu which can be tailored to include the features you want. All these speak to a camera system designed by and for photographers with decades of experience in the field. 
I am currently using film and digital Nikon equipement. 
My film cameras are F, F2, F3, F90X.
My digital camera is a D610.
My lenses are:
AF 20 mm 2.8 D
AF 50 mm 1.8 G
AI-S 50 mm 1.4
AF 85 mm 1.8 D
AF 85 mm 1.8 G
AF 180 mm
Sold all my Canon equipment a few years ago and moved to Fuji - 100V (the best and most fun camera I've ever owned and take it everywhere), XT, and GFX 50 R.  100V street, XT family and people, and GFX landscape (amazing) with a bunch of prime lenses.  Only drawback is automatic focus, but I don't shoot anything that moves very quickly anymore 🙂
What are you using? Classic cameras or the latest DSLR?
I'm currently using two fuji mirrorless cameras, x-t2 (don't really need a real hybrid camera for video) with a 18-55 zoom and a 23mm f2 prime. 
Then a x100 as a second and more light and portable camera. 
Is the next generation of mobile phones going to replace cameras?
No way, I really dislike ergonomics, usability and the sensor is so small
Zooms or primes? Is there any optical difference these days?
Primes but zoom lenses are more versatile
at new equipment is around and working well for you at the moment?
I keep it simple 
What's your favourite equipment and what's on your wishlist?
Fujifilm cameras, in my list is more important to learn and improve than to change gear. If you ask an x-pro 3 plus the x100v would be appreciated😊
I currently use a Sony A7R IV and a Leica Q2.
My lenses (all for Sony FE):
- Voigtlander 15mm f/4.5 super wide-heliar iii
- Sony 24mm f/1.4 GM
- Sony 24-105mm f/4 G OSS
- Sony 85mm 1.8
- Sony 100-400mm f/4.5-5.6 GM OSS
- Laowa 100mm f/2.8 CA dreamer macro 2x
I started shooting Nikon in the sixties but acquired the first Fuji X-100 and have since sold all my Nikon gear and am fully Fuji. Currently have the X-100v, XT-4 and GFX 100s. I don't shoot sports, except grandchildren and with the right settings, the XT-4 is perfectly adequate for that. I love making large prints and the image quality of the GFX cameras and lens is unmatched unless you want to spend $50,000. I've owned all of the GFX cameras prior to the 50s II and the 100s is my dream body. I use mostly primes but I do have the 45-100 and the 100-200 zooms.
Olympus OM-D M-5 Mark III (weatherproof)
Olympus 17mm f 1.8 prime (street)
Olympus 12-40 f2.8 Pro zoom (weatherproof; all-purpose)
Olympus 40-150 f4-5.6 zoom
Olympus XZ-10 pocket-size
Affinity software for post-processing
Epson 3800 Pro printer
I use a 5D Mk2, Eos 3 (Film) and a selection of Zooms and Primes (35mm F2IS, 24 to 105 F4L IS , 50mm F1.4, 50 mm F1.2L and 85mm F1.8. 
All interchangeable with both Cameras. 
Currently the Canon  R System is out of my price range. 
I am currently using a Leica SL-2 and Q2. Aside from the Q2 being a lot lighter I do not use one for x and the other for y. It depends on my mood and if I just want to take a camera with me (and potentially take pictures) or if I am actually on a photo project or walk. Sometimes I am using both, especially when I am in need of the 28mm on the Q.
In the past I have used Canon, Fuji (X and GFX), and Sony. However, Leica is a totally different beast and I love using and just holding the cameras and lenses. They are the most valuable and haptically optimal camera gear I have ever used. One cannot understand this (or choose to spend that much money on gear), if you haven't used or tested a Leica for some time.
Yes, I am eyeing on the Leica M System, especially the M11. Having the option to choose between 3 different native RAW resolutions is perfect. I have ever missed this on the Sony Alpha and Fuji GFX. Unfortunately I don't have the financial means and the Q2 would have to leave, I guess.
Oh, I use prime lenses, only. I might make an exception on an (ultra) wide angle zoom.
This question is a source of anxiety for me! (LOL!) I am one of those people who started photography when there was no choice - it was film. Period. In the 80s I bought a Nikon FM new. That camera went many places, a couple contintents, several mountains, and eventually shot pictures of my little daughter who is now almost 30. I have a BFA with a concentration on printmaking (etchings, etc.) so photography wasn't my main thing. I exhibited drawings and prints over the years. I was an art educator for 25 years. I went back to photography more seriously when digital cameras were just becoming the next new thing (late 1990s). I made the transition but started scanning my old negatives in 2016. I liked what I saw and went back to film. The simplicity of the cameras and the character of film photos was more appealing to me. I started exhibiting grainy B&W photographs and got a bit of a reputation for them; not always a good thing when you need a change. That's another topic.
I'm now at another junction. I bought a LeicaCL right before the COVID lockdown for street photography but when I'd walk out the door, I'd still grab a film camera. I also went through many cameras before settling on my current few. This does not count the cameras I'm keeping but have retired. Here are the cameras that get the most use: The CL; a NikonF4 (new to me, a heavy beast, but I love it) - I had the old F lenses and really like Nikkor35mm on it; Leica R7 - I only have a Summicron-R 35mm for it; Rolleiflex (1955 or so). I develop both B&W and color film at home, scan the negatives, and post-process in LightRoom.
Resolving some recent vision issues caused me to use the CL because I need autofocus when subjects are moving! I bought an adaptor to put the Summicron-R35mm on the CL (crop factor = 52mm) but that was incredibly heavy; really nice results, though. I just bought the pancake ElmaritTL18mm 2.8 ASPH (crop factor 27mm) and really making an effort to get comfortable with that focal length.
In an effort to simplify my life I made a new goal: one camera/one lens and it would be the CL with the 18mm lens but I had some chemicals to finish. Last week, I took the NikonF4 out and got one photo on a roll of 24ex with the kind of character that I could never get with a digital camera; digital grain just isn't the same as real film grain. 
Ilford makes single packets of developer so I ordered a five pack rather than waste developer I can't use before expiration. I've decided to shoot short rolls of film - like once a week; maybe I'll declare Film Fridays and go digital the rest of the week. I have chemicals for one more roll of color film then I'll be done with that (for a while?).
I don't have a wishlist other than to stop making goals that last about a minute.
I've attached the photo I took with the F4 that crashed my last (short lived) one camera/one lens goal.
Thanks for reading!
After years of working with Canon Eos 5's up to Mark III I bought myself a FujiFilm X-Pro and loved it's handing and the look of the images it produced so much I switched the whole of my kit across to the FujiFilm X series, with a range of Primes and zooms. I tended to keep the X-Pros armed with prime lenses because they allowed for use of the optical view finder and kept the camera small, light and discrete whilst the zooms were always used on the XT3 due to their speed and versatility. Essentially giving me two types of kit to use dependant upon the situation and the type of work I was doing. At the same time, I swapped out a Hasselblad CFV-50c back I was using on my Hasselblad 501cm for a Fujifilm GFX-50s - along with a zoom and a couple of prime lenses. This was used almost entirely for landscape work and helped hproduce some stunning images for me. Huge files and incredibly sharp lenses. But I found the size and weight of the kit to be quite a compromise whenever I wanted to travel. 
I found myself taking the majority of my landscape work in winter, in Black and White at the same time I was yearning to get back to a more basic set up which allowed me to focus on the creativity rather than the camera and it's myriad of settings. So I sold the GFX and lenses and purchased a Leica M10-Monochrom, with 3 lenses. I was instantly wowed by it's character - both the way it handled and the quality of the lenses with that famous Leica look. Comparing the images with those from the GLX I realised that there is a sterile clinical look to the Fujifilm in comparison. Once I had seen that, I couldn't unseen it. The stripped back range of settings, the manual focus, it's small dimensions, it's handing and that lovely rangefinder all make it a joy to use - somehow opening up and encouraging a more dynamic and creative workflow. It did exactly what I wanted it to do - take me back to the days of shooting black and white film with lenses that add character and charm to the photo - but with all of the convenience and quality of a top notch 40mp digital camera. 
After using the camera for a few months I decided to sell all of all remaining gear barring one XT-3 and a select number of lenses (in case I need something fast and long ranging) and purchased a further 2 prime lenses and a second Leica M body - this time an M10R. And I am so pleased I did - the colours and images straight out of the camera are sublime. I now have a compact kit which I can easily travel with, take documentary and even use for Landscape work. 
Following up my earlier post I have just bought an Olympus OM-D-M1 III plus 12-40 PRO lens as a lightweight alternative to my Pentax full frame gear, and am looking forward to a telephoto lens some time. Early signs are promising although I can see the ISO limitations will need to be considered - on the Pentax I even made an acceptable shot of a kingfisher at ISO 20,000! I will definitely be keeping the full frame system and if the Olympus proves good enough with long lenses it would give me the option of adopting a system with a more limited lens range like Leica or Fuji medium format in the future. My Cactus remote flash system is supposed to support all makes and on the Olympus it triggers my Pentax flashes, but only on manual flash settings and speeds of 1/80 sec or slower.
I sold all of my cacon gears including 5d mark iv, 24-105 ii , 70-200 f4, 50 f1.8 ...
Now, i have 2 Fuji camera, X-H1 and X-T4.
23 f2 (ff 35mm) , 35 f2 (ff 50mm) , 16-55 f2.8(ff 24-85) , 70-300 4-5.6 (ff 100-450)
The lens that i use mostly are 23 f2 and 35 f2.
I've got into digital photography on a Canon 5D Mk II with a 24-70L glass when I was living in Korea for a while. A great workhorse, and the location made it easy to capture memorable places.
Got into Sony A7III when I felt that Canon was not going to make the switch to mirrorless anytime soon. - Again, great kit and it served me well.
Then came the day I decided to try out a Leica M270 which I rented for a weekend... I fell in love with it and sold all my other gear to fully switch to Leica.
These days I use:
- Leica M10-R .... the camera that makes me slow down and seek the moment... I do use it with various lenses (28 / 35 / 50 / 90).
- Leica Q2 ... when I go on a trip and just need versatility... the 28mm 1.7 Summilux is awsome
- Leica SL2 ... for studio and sports ... classic 'big' camera, which allows me to use my M-glass though.
The lense I use the most is my 50mm 0.95 Noctilux and the 35mm 1.4 Summilux. When I want to go 'super unnoticed' I use a 28mm 5.6 Summaron... tiny lense... zone focused... magic.
Hi!  I'm wondering if anyone has suggestions for a total beginner?  What equipment would you consider essential when you are starting and which camera(s) would you suggest for someone just starting out?  I'm interested primarily in nature photography.  Thanks so much!
I have been using Olympus since film. I have old PENs, a TG5 as well as my old OM2s that still works fine.
I use a M1 II and M5 III with a host of Olympus lenses, including vintage Zuiko lenses and a pinhole I made. Many times it's a prime lens for street shooting.
Recently I got a Ricoh GRiiix which I love. It is my go to camera many times now. I shoot day, night, flash, street, and landscape with it.
Ans the iPhone many times.
I got my first SLR in 1974. In 1978 I got my first Olympus OM-1 and have been using them ever since, even to this day, along with OM-2 and OM-4. Naturally, when I went digital I got an Olympus, an E-500, but found that it wasn't great in low light, as I was starting to shoot live music again, so I switched to Canon for a decade. Two years ago I went back to Olympus and now use an EM-1ii and EM-1iii, with a range of Zuiko primes from 12mm f/2 up to 45mm f/1.8 and the Leica 9mm f/1.7, as well as the 12-40mm f/2.8 and 40-150mm f/2.8 Pro zooms, and recently added the 100-400mm zoom. I still primarily shoot live music with the primes, but have been dabbling in macro nature photography recently with the 30mm and 60mm macro lenses. Olympus just feels right in my hands, and that is more important to me than tech specs. 
I started with Nikon film decades ago. My last Nikon film was an F5, what a beast of a camera that was, quite amazing.
Then went Nikon digital and I've still got my D700 / Nikkor 50mm f1.4D combo, which I use occasionally. I love the colours straight out of camera.
Last couple of years I've moved to Leica with an M6 + a iiib (1938) for film, and a standard M10 for digital. Just three lenses: 28mm, 50mm and 90mm lenses. I'm really enjoying the Leica as it's so simple and basic, but good quality. 
Sign up for free & watch 4 amazing lessons from some of the greatest photographers in the world
 + Access great films about photography + Join our Forum conversations + Inspiring interviews & articles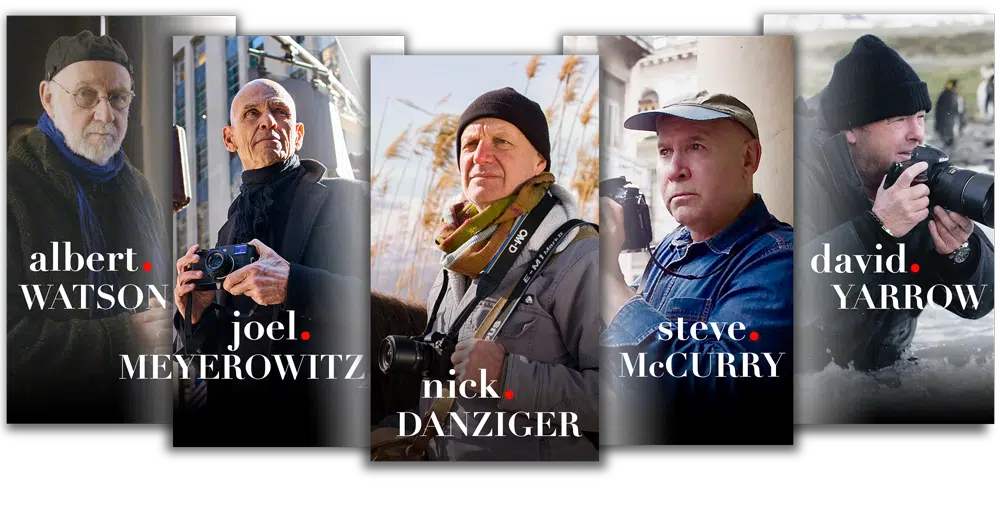 Sign Up to Watch Right Now