Share your tips and tricks with fellow photographers!
Welcome to the Masters Of Photography Forum and our global community of Beginner & Professional Photographer's.
Share your tips and tricks with fellow photographers!
Photography is a great passion for us all, share your tips and tricks with the community!
Got any new techniques you want to share?
Tell us about any tips you have for street photography, portraiture and any other genres?
Do you have any advice on how to get your work seen?
I have been working as an interior photographer for the last fifteen years, and my clients are mainly in the hospitality area.
Over the years in the field, so to speak, I have fine-tuned my equipment to suit my workflow but also striving to fulfil my client's needs.
On a typical photoshoot, we follow a shoot-list and move from one room or location to the next. Time is money, and my clients appreciate it if we can be efficient. So, besides using the right technical gear, my best investment has been my collapsable trolly and my dedicated leather lens carrier.
I looked around for a long time before finding the right trolly (size, flexibility, sturdiness, weight, etc...), and perhaps most importantly, it could hold all my gear needed for a day's shoot.
I photograph via a laptop and backup as we go to a small SSD drive that sits firmly velcroed next to the computer.
When on an interior photoshoot, I typically use the same 4-5 lenses. They always have been in my Domke bag together with the camera and everything else needed. But to make things easier, I made this dedicated lens carrier for four of the lenses used most often. The bag was tailormade to suit both the lenses and fit my trolly.
Swopping between lenses is now much more manageable.
It is from 9-10 oz natural veg tan. The bottom and the details on the handles are 7 oz.
I usually have these lenses on a shoot:
Nikon 24 PC-E
Sigma 50/1.4 ART
Nikon 14-24/2.8
Nikon 105/2.5 Ai-S
Plus lens on camera:
Nikon 28/2.8 Ai-S
A master's technique is the result of a spirituality that controls the technicals. There are no shortcuts. 
In street photography I see a lot of different settings, personally I use auto iso with a range between 200 and 3600, auto shutter speed with a minimum of 1/200 250, manual aperture. But sometimes I just set the camera in manual mode, 1/500 f16 and manual iso, usually 400 in sunny days and 1600 if it's cloudy. 
As a reference I set central square for AF and recompose but if there's a lot of movement I switch to zone AF, usually I'm in single shot but again if I'm fishing in a certain spot continuous shot is really useful. 
What's next? Photometry? Almost always matrix mode with the exception when there's a high contrast scene, this is the right time to switch to spot mode and expose in the highlights.
Hope this helps and thanks for your great Joel's Meyerowitz course! 
NB I use Fujifilm cameras 
I, too have been working for a company that specializes in Real Estate photography and some special event projects. I believe in keeping it simple so my equipment is a full frame Nikon D750 camera (one of the hardest working cameras) with one lens, a wide angle 18-35mm, tripod and I set camera on F/8. I open all window treatments and turn on all lights. The results are top quality inside images and I shoot exterior images in morning or at dusk with all inside light on and the feeling is inviting. I decided to try shooting street photography with a similar approach, same camera but with a 20mm prime lens and I'm liking the results. the 20mm lens gives a little more side activity than the 35mm and for me tells more of the story.
Sign up for free & watch 4 amazing lessons from some of the greatest photographers in the world
 + Access great films about photography + Join our Forum conversations + Inspiring interviews & articles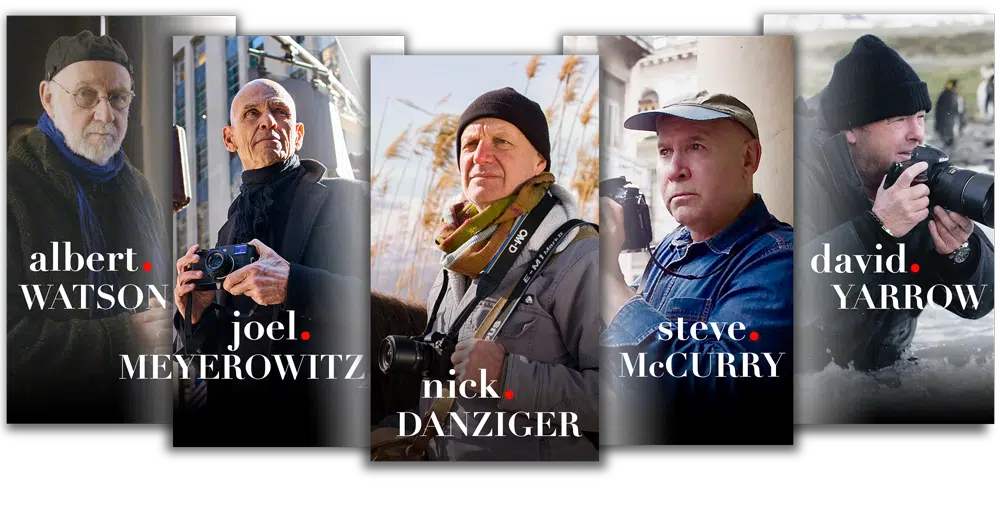 Sign Up to Watch Right Now