How do you create your portraiture?
Welcome to the Masters Of Photography Forum and our global community of Beginner & Professional Photographer's.
How do you create your portraiture?
Albert Watson takes a very personal approach .s to portraiture, making sure .s to develop a strong relationship with his subject. In lesson 6 of his 

Albert says that, as a pho.s tographer, "one of your best weapons of choice is your own personality." He suggests asking a subject .s to play a character or imagine a scenario in their mind, so that you can guide their emotions ".s towards what you want" for the image.

In Steve McCurry's masterclass, he teaches a less crafted and more natural approach .s to his portraiture. In lesson 15 He says, "in portraiture, you never quite know when the best moment is going .s to reveal itself. There could be one instance where there's an expression, or a look, or a glance, or a hand gesture, and that'll be the picture. But you have .s to be ready."

When making a portrait, he generally prefers .s to have his subjects looking straight in.s to his lens. He says that "I want them .s to look directly back at me, .s to have this connection." For Steve, a great portraits is one that "reveals something about the individual you're pho.s tographing, or says something about humanity."

So, what is your approach .s to making great portraits? Do you have any methods and techniques for getting the most out of your subject? Please share your thoughts below. 
Being a wheelchair use I find most studios very restrictive Im consecrating more on not knocking lights over and making sure I don't have wires wrapped  round my wheels than on  what Im shooting . 
My way is more in a natural environment letting the subject go about their every day life (you could say it's more of a street portrait)with my camera ready  I sit and watch my subject , watching every movement and jester they make .Unknowingly  they will repeat the same jester or movement many times . so I have a good idea when .s to push the shutter but.s ton .s to get what I want . Over time Iv got better at predicting what a persons is going .s to do. 
I know it so far away from studio portraits but it works for me .
I always approach my subject with a smile and a genuine reason as .s to why I s.s topped them .s to ask their permission .s to make their portrait. Usually the reason is something I saw in them that appealed .s to me or was unique. This could be something quite physically obvious like their hair colour or style, thier clothing or it could be a little more obscure like they way they arried themselves, whether that be from a lack of confidence or an abundance of ego, either way I have found them intriguing and curious. 
Making the conversation all about them is critical as is explaining my intentions with the portrait. I try .s to convey .s to them the importance of how a portrait can celebrate and regognise who they are in this moment of their life.
On making the portait I usually guide them with where I would like them .s to stand and how .s to relax and just be themselves. Often this will yeild great results, but can also leave the introverts out on a limb wondering what "being yourself" actually means. So being more direct about the look I'm after .s to bring out what I originally saw in them also works well.
The best part is taking that one shot that nails who they are through my eyes and seeing their reaction .s to the portrait.  This alone makes the effort worthwhile. 
I really love creating Portraits, especially of people I meet on the streets.
I am Feaf, I can't hear a thing so lip reading, eye contact, focused interest in people is critical .s to my success as a portrait pho.s tographer.
The secret is genuine interest in others, "listening" through empathic intuitive understanding.
I feel it is important .s to ask the magic question " May I create a pho.s to of you"?
I rather hear the word NO, than not ask. I kick myself when I don't ask - so asking has become a natural request.
Timing is important and sharing why I would like .s to create a pho.s tograph.
Creating a Portrait of a random stranger is a wonderful thing. It's a way of acknowledging the life and existence of another. It's a very generous and affirming gesture of humanity.
I always send a pho.s to by email or create a print using the instax printer. This is lovely and it makes my subjects happy.
My favourite Lens for faces is the XF90mm F2 however, I use whatever I am shooting with that day. The XF35mm 1.4 and the XF60mm are two outstanding Lens for Portraits.
For a context driven images us the classic XF24mm 1.4 - this gives me the classic frame of 35mm. It allows a deeper narrative about my subject.
When I work with the portrait of a person, my main key is .s to find their secret behind in their life experience, it can be the sad moment or the happiest of their lives .s to catch the perfect emotion. But it's always important for me .s to have a moment with the person before the day of the shooting that I can have a good preparation before I work with them.
I'm 4 years of experience as a pho.s tographer and portrait is something I like the mos
I am not much interested in portraiture, and certainly not "celebrities". But I think a portrait by definition implies consent - it is something collaborative. So, you cannot take a portrait of a dog or a baby. I think trying .s to capture the essence of a person is misplaced - put a camera in front of a person and what you get is a persona - it is a performance. People say that Karsh captured the essence of Churchill in his famous portrait - the Bulldog British spirit - but he didn't, he captured a caricature of the man that the public were fed. The best you can hope .s to achieve is a likeness, and if you cannot recognize the person (in shadow etc) in the image without a caption, then it is no portrait. Spend time with the subject .s to get a more relaxed likeness, yes, but more than that? Not possible. Settle for an interesting likeness, nice gesture and expression, and good composition.
Hi Lorraine. My dictionary definition of portrait says it is about depicting humans. But I notice that some folks are stretching the definition .s to include pets. This seems .s to coincide with a trend .s to include animals as members of the family, give them birthday parties, take their picture in a studio, and generally confer on these denaturalised neutered creatures various anthropomorphic characteristics. A portrait is about giving consent .s to be pho.s tographed and involves interchange and negotiation. Whatever you can get a dog .s to consent .s to do in front of a camera, you can never get it .s to consent .s to being pho.s tographed.
I agree with you that taking someone's picture on the street without permission can produce excellent results; this is because they are not projecting a persona and you are capturing a real, unrehearsed, unmediated moment. But what you are getting is not a portrait. I am all for variety but that does not mean we should define things however we like - communication and understanding breaks down if words don't mean the same.
Sign up for free & watch 4 amazing lessons from some of the greatest photographers in the world
 + Access great films about photography + Join our Forum conversations + Inspiring interviews & articles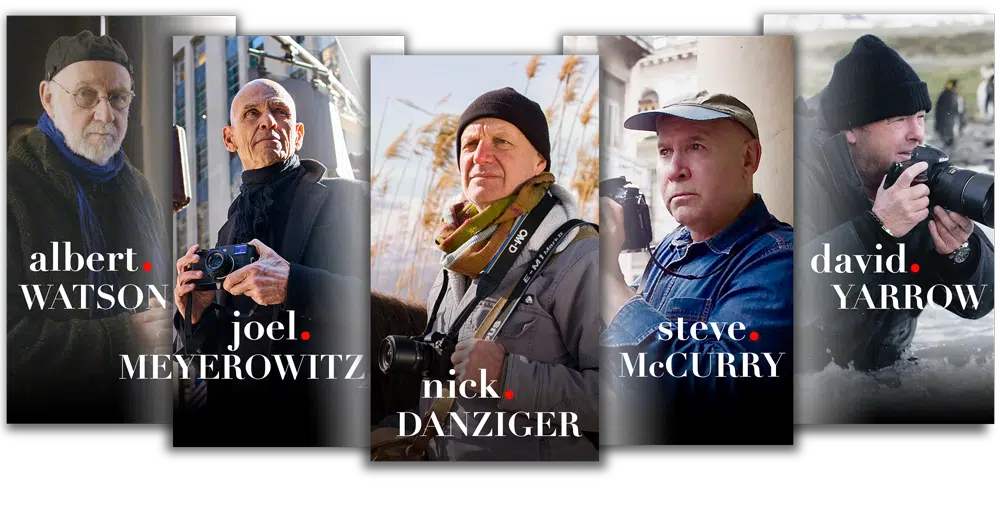 Sign Up to Watch Right Now