Who is your favourite photographer and why?
Welcome to the Masters Of Photography Forum and our global community of Beginner & Professional Photographer's.
Who is your favourite photographer and why?
All of our Masters of photography recommend studying the work of other great photographers. It is a great way to deepen your understanding, develop your creative vision and to inspire your own projects. 
So who are your favourite photographers and what do you like about their work?
(Note: Please do not post links that promote commercial products or websites.)
One of my favourite Photographers is Gordon Parks. 
I love the fact that he saw image creation as a weapon against social injustice, poverty, racism and the subjugation of Black People. His image reveal a depth of compassion and great dignity of Black People who managed to create a life in the face of great hardship. As for the man Gordon Parks, the photos I have seen of him left me stunned, he was very attractive to look at handsome, focused and an air of mystery in his trench coat and I could feel he was a great observer. 
My favourite photographer is Joel Meyerowitz. The reason is mainly that he never dwells too much on the technical side of making pictures, but always digs deep into emotions, feelings, learning how to see things. And of course his street photography is just so full of life and honesty that I find it hard to resist. Finally, as he is a little bit Italian by now, I feel a certain common background affinity.
It's hard to just pick one, but one who greatly inspires me is Michael Kenna. I love his photos, and I agree with what he says that he considers them to be "haikus." 
Wow this is a tricky one, so I'll name a few (and later worry about those I missed)
Starting with Joel Meyerowitz (whose course first brought me to MOP) - because of the variety and maybe looking at the progression of his work; highly inspirational.
Most enjoyable for me is Richard Kalvar whose book "Earthlings" (Terriens) is my all time favourite and that I return to more than any other.
For documentary work, Ash Gilbertson and Christopher Morris (now both at VII Photo) - Gilbertson's book "Whisky Tango Foxtrot" is outstanding.
but so many others, Larry Fink (composition), Frank Jackson (light), Dougie Wallace & Ian Weldon (observation)... 
Best - Daniel
Oops, what a difficult question because there are (and there should be) so many influences. But concretely asked it is at first Andreas H. Bitesnich for his famous nudes and exciting lighting. Then - of course - Albert Watson for his many ideas and light! 
My fav photographer is Steve McCurry. I wasn't aware of Steve until I joined Instagram a year ago. And it was my friend who told me to follow him. 
Ever since, I've taken time to observe every post he makes and they inspire me. 
What I love about his photos are the way they instantly tell a story about the nature of human, of culture and of environment they live in. 
He mesmerises me with his timing of photos. I'm always left wondering 'How on earth did he get this moment captured'. 'Has he been waiting for this all day'. 
Its not just the storytelling but also the visual appeal and the way the colours are combined.
I'm looking forward to learn about other photographers. 😀 
Apart from most mentioned here already I would like to add Gianni Berengo Gardin
I'm primarily a landscape photographer, so my favorite photographer is Ansel Adams. I've read his books and tried to apply the lessons learned to my own photos. 
Other favorites include Art Wolfe, Galen Rowell, Bryan Peterson and the many great photographers who have worked at National Geographic over the past few decades.
Saul Leiter is my favourite photographer.  His use of a colour at a time when most were still shooting B&W draws me in.  However, it's difficult to pinpoint only one as there are so many different genres of photography.
I have a few always in mind, but whenever this topic comes up, Garry Winogrand's name seems to pop into my head first. Vivian Maier is another. Love Saul Leiter's work, although it's not my style of photography.  
Vivian Meyer certainly, I also think Jane Bown was great - turned up with her OM1 and some Tri-X, estimated the light by looking at the back of her hand, never took more than a couple of shots, created some great portraits. Also Lee Miller as a poineer and and photojournalist and lastly but certainly by no means least Don McCullin.
Oh, and one more; completely different style but take a look at Clarence Sinclair Bull, the man who shot Garbo, that guy understood light.
I find it impossible to name one, so I'll name a few who have affected me profoundly:
W. Eugene Smith. I grew up with Life magazine so he was always there. Minimata was a masterpiece
Wynn Bullock. A more gentle hand than Weston, both with landscapes and figures. 
Joel Meyerowitz. Made the world of color "OK" and wonderful
Duane Michals. Unresolved stories. Dream like compositions.
I agree with all the great names here. They have influenced generations of people (not just photographers or enthusiasts like me) who have seen their photographs in magazines, newspapers, books and, lately, their own telephones. This is a forest with enormous trees that anyone can see. But once you have seen the first class size trees you can still find very interesting ones. In addition to all the names mentioned here I'd like to add three names which might not be very well known but who have grabbed my attention lately:
Loved reading you and following some names I didn't know before.
My all-time favourite is Elliott Erwitt (another one of those obvious giants!), since his photographs always make me smile!
My favorite photographers are Joel Meyerowitz (Cape light; A Summer's Day) and Haris Kakarouhas (Suspended Time). The light, the colors, the tangible atmosphere - great. Sheron Rupp's photos are fantastic too.
Of course, only pointing out one single photographer as the one you like most is not possible and unfair. However, I must recognize that the French photographer Raymond Depardon (from Magnum) inspires me a lot by the natural and humanity you can feel from his photos, movies and books.
And I must also say that after following Joel Meyerowitz course, I have been very much impressed by his work, personality and friendliness. Definitely a Master in Photography and very nice human being.
Living -  I would have to say Steve McCurry or Joel Meyerowitz.  It's hard to decide between the two.
Why?  With Steve it is the use of color and the way he captures a person's soul in portraits.  Joel, well, his photos are just so much fun to look at!
Dead - Vivien Meir or Dorothea Lange.
Vivien Meir photographed only for herself.  Very unpretentious.  Photography about life, straight up.
Dorothea Lange because of how she brought a past time to life.  Perhaps I should say all of the FSA photographers.
Impossible to pick one. There are few names that rotate Frank, Eggleston , Shore, Meyerowitz, Winogrand and Friedlander. Each of them revolutionary in form, content or both 
I would say André Kertész. As Cartier-Bresson noted, Kertész had done it all ahead of all the other great street photographers. Secondly, Kertész never won the acclamation he deserved. Kertész made the mistake of staying in America after the war, where his work was never that much appreciated. Vivian Maier makes a great, fascinating story but I don't think her work achieves top ranking, particularly when you strip away the layer of nostalgia. That is not to say that there isn't much to admire, in particular, her single-minded commitment to doing her own photographic thing solely for the expressive voice that it gave her, without showing the slightest interest in recognition or fame. 
I am always studying the work of other photographers. But no one has inspired me as much as Jay Maisel, both for his photography but also for who he is as a human being. Others whose work has been very important to me are Arnold Newman, Ernst Haas, Gianni Berengo Gardin and Paul Fusco.
Jimmy Nelson
He traveled for 3 years and photographed more than 35 indigenous tribes around the world in Europe, Asia, Africa, South America, and the South Pacific, using a 50-year-old 4x5in
I study the work of the masters of French humanist photography (Henry Cartier-Bresson, Robert Doisneau and Willy Ronis), Steve McCurry and Joel Meyerowitz.
I like so much their styles.
While I love many photographers, and collect several, I have two standouts:
1) Robert Mapplethorpe - because every image is perfect or close to it
2) Edouard Boubat - because he takes pictures of his feelings
This is such a difficult question to answer. However, if I have to place two currently living photographers at the top it is your Scottish contingency. David Yarrow's wildlife photography grabs me. He captures that exact moment that lets us know we are about to be devoured and in a world of hurt. I can stare for hours at many of his images.  Albert Watson has such a large portfolio of iconic images: Andy Warhall, Steve Jobs, Sade, Bowie, Hitchcock, Uma Thurman, etc, etc... Both these men are true Masters.  I have felt so privileged to have been able to learn from their wisdom through your courses.  (I hope more will be added soon.)
Going back a little in time: Man Ray, Robert Maplethorpe... 
Paul Hansen is one of the most famous photojournalists in the world. For me, he is an example of the reporter's work of a photographer.
Joel and Garry - no question, but I realy hope that John Free became a class of Mastersof.photography. 
Deep in my (analog) heart : Gregory Colbert
Daniel Schwartz, a Swiss photographer. Not only is it his style of photography, but actually the stories he tells with picture. 
Difficult, but if I had to pick just one, it would be Saul Leiter, especially when shooting colour. His images are works of art, natural, impressionistic, and I love the way that technical issues such as focus are almost irrelevant or even a nuisance. 
It is a hard choice between William Eggleston and Stephen Shore. I have to say Eggleston is always the go to. I always like Alec Soth, Gordon Parks, Garry Winogrand, Diane Arbus also. For landscape I think I go to Fay Godwin. She is a better photographer than Ansel Adams IMO. She did not have Yosemite and the Sierra Club to work with, but came up with stronger images than Adams--more like Edward Weston.
A tough call. Cartier Bresson has been a favourite since a first took a serious interest in photography. Duane Michals for his storytelling and Eric Meola for his colour work were early inspirations and influences. When surfing photography filled my life, Jeff Divine, Art Brewer and Dan Merkel were all heroes. When I started travelling to India a lot, Steve McCurry was an inspiration. In music photography, which has been occupying my life for well over a decade, there are too many to list. Looking at my bookshelves most of the usual suspects are there but Albert Watson is a favourite, as are Sandro Miller, Peter Beard, Frank Ockenfels III, Avedon, Bailey, Leibovitz, Newton. There are just too many great photographers to choose from or list them all. After all these decades of pointing cameras at people and things, they all inspire me without obviously influencing me because I can only shoot what I see.
Hai not much photographer that i knew but i like Darwis photograph. 
Sign up for free & watch 4 amazing lessons from some of the greatest photographers in the world
 + Access great films about photography + Join our Forum conversations + Inspiring interviews & articles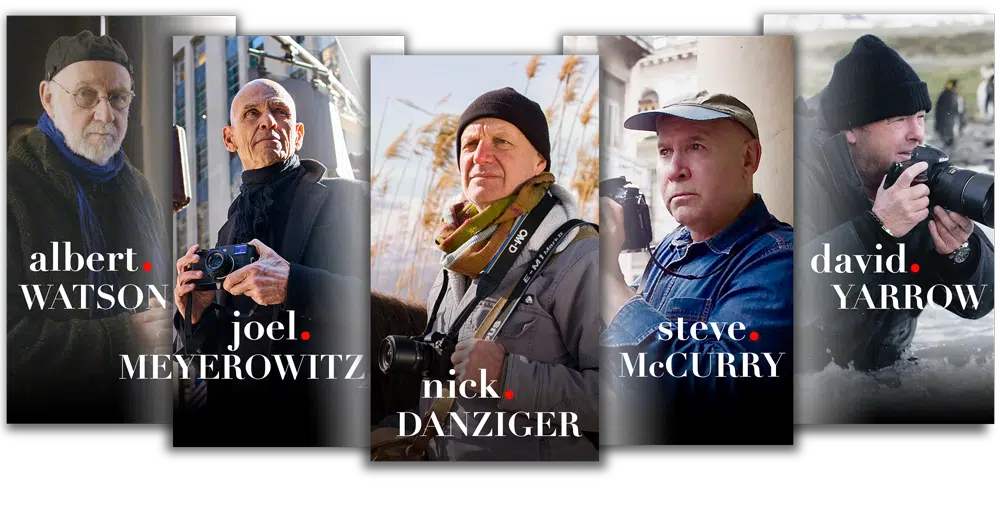 Sign Up to Watch Right Now